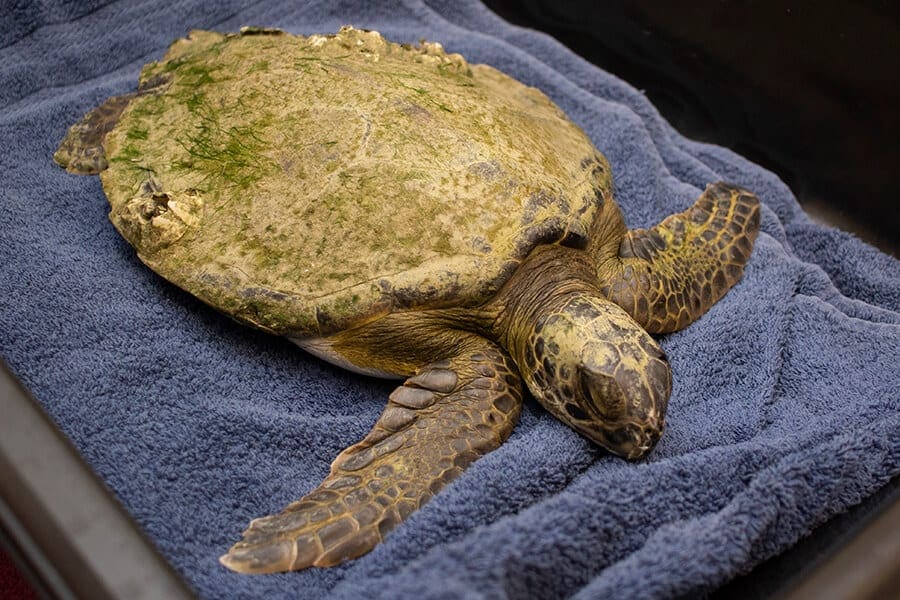 Name: Pumpernickel
Species: Green
Date admitted: March 21, 2019
Stranding location: Flagler County
Status: Deceased
Admission notes: This turtle arrived on March 21 with mild green algae growth on their carapace, in thin body condition and with an old healing fracture to the rear of their carapace.
UPDATES
May 9, 2019: Pumpernickel suddenly passed away on Saturday, April 25. Upon necropsy, we discovered their lungs were unhealthy and not responding to treatment.
April 24, 2019: Pumpernickel came out this week for their monthly work-up. We will be awaiting results from the bloodwork, but visually this turtle is looking great and gaining weight.
April 12, 2019: This turtle continues to progress and now rests easily on the bottom of their tank. We plan to move Pumpernickel to a deeper tank soon!
April 4, 2019: What a turnaround for this turtle! Upon intake, Pumpernickel's radiographs showed that their left lung was in poor condition and this turtle's labored breathing reflected that. A bronchoscopy revealed a large amount of mucous in the bronchus, which a sample was taken of. The bronchoscopy must have moved enough of the mucous out because Pumpernickel resumed breathing normally after. A few days later, this turtle started eating on their own and is very active in their tank now!
March 28, 2019: This turtle has not started eating yet, so TPN was added to their regime along with gavage feeding every other day to get Pumpernickel's GI working.